Biography
Born 1945
Kit Williams came to the attention of Portal in the late 1960's when he submitted a small, finely detailed painting to the John Moores exhibition in Liverpool. The gallery immediately took him on and Kit swapped his first exhibition of paintings at Portal for a small cottage in Gloucestershire which belonged to the owners of the gallery.
Kit's talents lie in every aspect of picture making, from early on in his career he would make elaborate marquetry work frames which would echo the subject of the painting, later on Kit made complicated mechanical objects with paintings including orrerys and clocks.
Encouraged by the publishers Jonathan Cape to think about producing an illustrated book, Kit came up with an entirely original idea : he made 16 paintings to accompany a story and in each painting were clues to the whereabouts of a buried golden hare jewel which was in hidden in a secret location somewhere in England.
This book entitled 'Masquerade' was published in 1979 and it quickly became an international best seller inspiring treasure hunters from all over the world to come to England to try their luck at finding the golden hare.
In August 2009 Kit agreed to appear in a documentary film for BBC 4 'The Man Behind Masquerade'. Portal held an exhibition of his most recent paintings, and also displayed the golden hare jewel, which Kit had not seen for thirty years.
Kit Williams continues to paint using traditional techniques, working on wooden panels covered in linen and oil gesso. He uses many layers of opaque and transparent Dutch oil paint to achieve the luminous images of his extraordinary paintings.
A Rose in May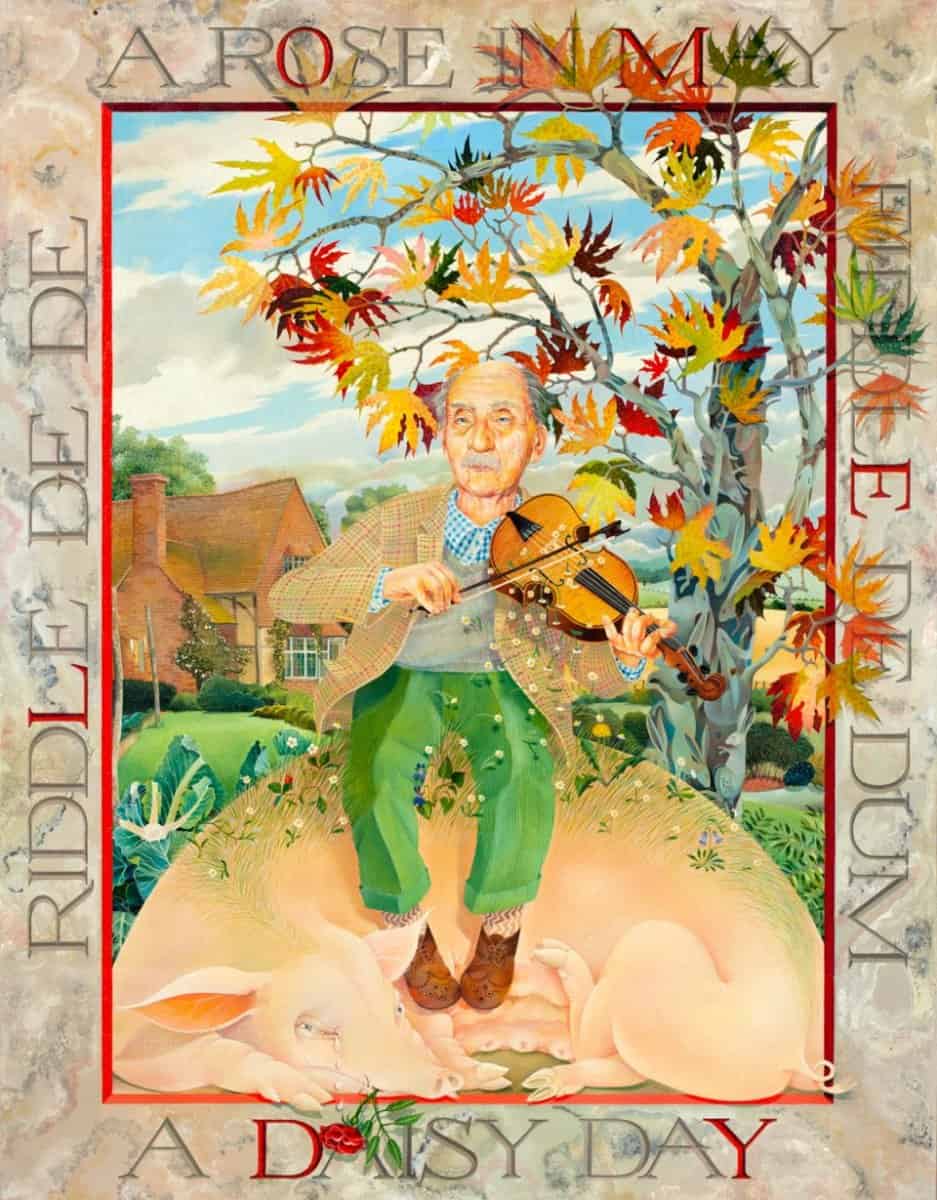 Image 1 of 3
Sold
Size: 38 x 30 cms ( 15 x 12 ins)
Type: oil on canvas on panel
Prices: : £30000
Description: This is an original painting from the 16 paintings by Kit Williams from his best selling book 'Masquerade' published in 1979. Clues in each painting led to the whereabouts of a golden hare jewel buried somewhere in the UK, the book was an overnight sensation, inspiring treasure hunters from all over the world to come to the UK to try their luck in finding the buried treasure.
Contact us about this painting